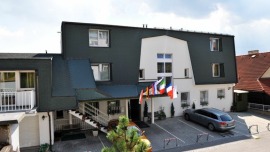 Prague out of center

→

Jinonice, Prague 5 •
White House Hotel, three star hotel in Prague 5 - Jinonice, quiet district of Prague with a lot of green around. To the historic center takes public transport 15 minutes. Metro station "Jinonická" is 300m, bus stop 100m. For quotes on a number of rooms of varying sizes please refer to price list. All rooms have full equipped with shower, WC, satellite TV, radio, direct dial telephone and internet. The accommodation charges include buffet breakfast and free use of an indoor pool and fitness center. In the hotel you can access the internet (WIFI), single price 100,-CZK.
more info